The 28th Pumpkin Pie Bicycle Ride, is organized by the Starved Rock Cycling Association. The Ride takes place in scenic North Central Illinois.
Pre-Registration: $23.00 by September 15, 2017 by 11:59 pm
$30.00 if Received After 11:59 pm September 15, 2017. Late online registration closes September 28, 11:59 p.m.  Individuals who do not make this deadline can register day of the ride for $30.00, pre-registration strongly encouraged save yourself $7.00
Registration includes: Pumpkin Pie after the ride, rest stops with fresh baked cookies and other food items, hydration, maps and cue sheets. Routes are color coded with Dan Henry markings, showers available at the YMCA (bring towel) Please note: The YMCA closes at 5:00 pm, please be finished by then.
OPTIONAL: Additional $16.00 – Short Sleeved T-Shirts guaranteed when ordered prior to the close of pre-registration on 9-15-2017 at 11:59 pm.  Please specify quantity and sizes on registration form. (no T shirt option available after 9-15-17)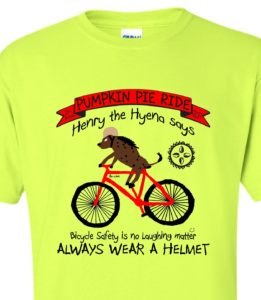 T-Shirts the day of the ride supply will be limited – $20.00.
This years shirt was designed by 4th grader Ben Clark. Ben won a new bicycle from "The Bike Shop".  (For details see Bike poster contest tab  and other photos of contestants)
Children 12 and under $5.00
SORRY NO REFUNDS
Routes include but are not limited to Road Rides 25, 45, 63, 100 mile routes, with light traffic and rolling hills. SRCA Reserves the unconditional right to modify the route and itinerary, without prior notice, due to weather, river, road, or other unpredictable conditions. Registration Opens at 7 AM (100 milers encouraged to begin at 7:15) Shorter routes can leave later, please try to leave by 10 am.
All rest stops close at 3:00 PM, SAG ends for all riders at 3:30 PM. Please be back to the YMCA prior to close at 5pm. (getting back late, may negate pumpkin pie, don't let that happen to you!)
ALL riders must pick up numbers at registration and wear. This also helps to track you in case of emergencies.
REMEMBER SAFETY FIRST: NO Headphones, all riders must obey the rules of the road. HELMETS REQUIRED.
Additional Parking in City of Ottawa Lot on Columbus between Jefferson and Jackson Street. (please car pool with friends if you can)  Marquette High School has parking also.